Competitive pricing

Customized pricing with limited credit overlays

Full range of products

Agency-eligible, TPO, ARMs and affordable housing products

Flexible Committing

Best efforts or mandatory delivery; flow or bulk purchase options.

Responsive Support

We walk you through application, approval, setup, and loan delivery.

Quick Funding

Funding as fast as same day translates to faster warehouse line liquidity.

In-house Servicing

We service our own loans to ensure your borrowers receive the unmatched level of service we're known for.
Here are 4 reasons we are always on target
In today's fast-paced secondary market, put our skilled MSR team on your side.
Unparalleled Client Care

Our dedicated relationship managers engage with you as often as needed to make the process smooth.

Detailed Training & Resources

We host live training calls and provide quick-start reference guides with step-by-step instructions.

Seamless Process

Our unmatched quality assurance and process oversight provides a layer of protection for you, the seller.

Customized Technology

We have developed flexible technology solutions that can be customized to meet our clients' needs.
Process overview
We work to provide exceptional customer service to both our Sellers and borrowers, providing a seamless MSR transaction. Our process includes unmatched quality assurance and process oversight that provides a layer of protection for you, the Seller. The below timeline illustrates a high-level view of our process.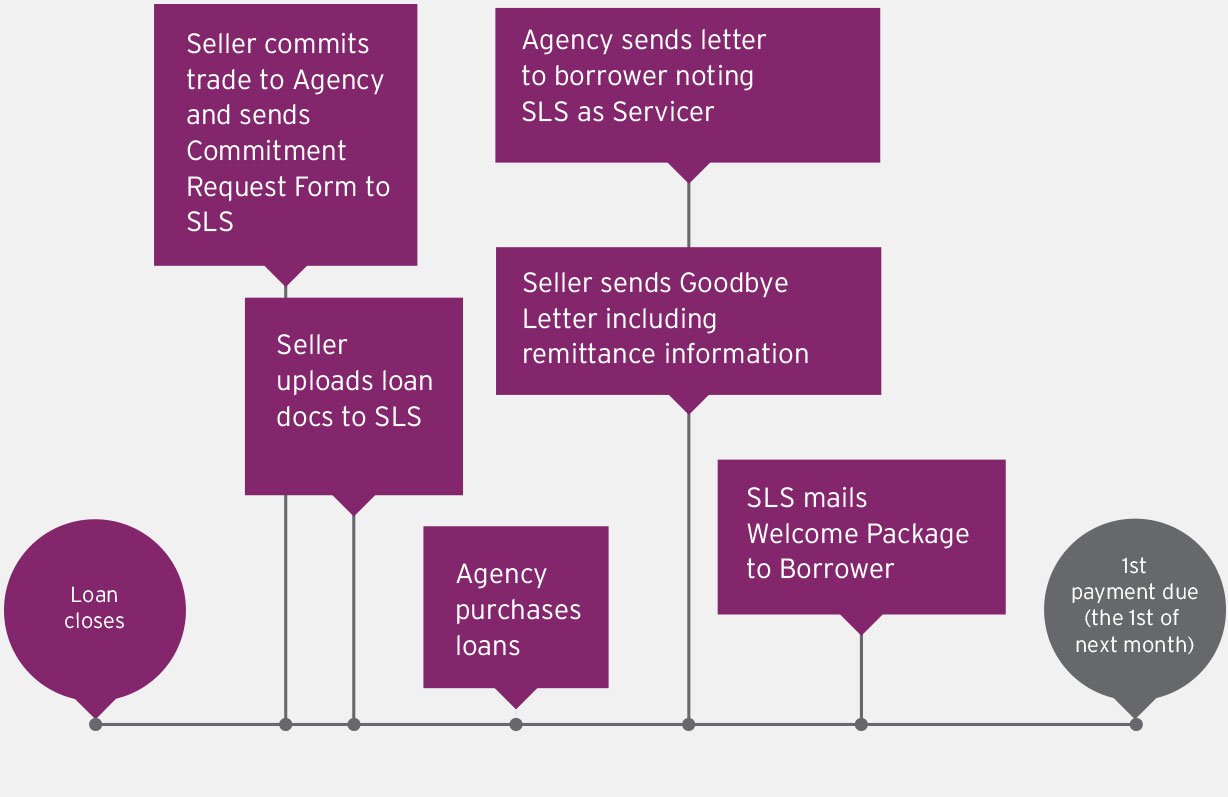 What is co-issue delivery?

​If you do not retain servicing but want to sell directly to the Agencies, CLS's co-issue delivery program serves as the buyer for your MSRs. CLS's program enables you to sell your Agency-conforming loans direct to Fannie Mae and Freddie Mac while simultaneously designating SLS as your MSR purchaser.

Why should I sell to CLS?

CLS's co-issue platform provides you with a new delivery option and competitive pricing for your MSR assets. CLS has the expertise to walk you through set-up and file delivery so that the process is smooth. CLS buys on a continual Flow basis and can customize our technology to fit your needs. We are an experienced partner, offering a flexible option for your best execution strategy.


Which types of loans does CLS buy?

CLS purchases Agency-eligible products including conforming conventional, TPO, ARMs, and affordable housing products. Contact your Account Executive for the full Seller Guide.

How do I get pricing from CLS?

CLS's pricing is customized based on your production. Contact your Account Executive for a current rate sheet.

What are CLS's Seller Requirements?

CLS buys MSRs from Sellers with a range of annual production volume. Sellers must be approved to sell directly to Fannie Mae or Freddie Mac. Contact your Account Executive for Seller requirements including net worth requirements and the complete Seller Guide.

What is the first step to become a CLS Co-Issue Seller?

The first step is to get in touch with an Account Executive who will get you a Seller Application and start the process. Call us at (904) 543-0052.

Once approved, when can I start committing loans?

CLS provides all approved Sellers with detailed training. This is delivered via phone call so that you and your team have every opportunity to get your questions answered. You're also provided with quick start reference guides with step-by-step instructions for committing to the Agency, uploading documents, accepting the trade, transferring MERS and more. We want to help you start selling as soon as you're ready.
Optimize your secondary marketing strategy
We bring together the industry's best talent to help you maximize revenue.
Contact us