We sat down with Mike Fratantoni, MBA's Chief Economist, to discuss the housing market and what lenders should consider as they prepare to succeed in 2023. 

Will there be a recession in 2023?
Yes. We are forecasting a recession for the first half of 2023. It will be most visible in the job market, with an increased unemployment rate, estimated at 5.5%, by the end of 2023. We are anticipating a global economic slowdown as well, which will put pressure on inflation.

What should we expect regarding inflation?

Inflation is the highest it's been since the 1980s, but the Fed is slowing the economy in an effort to bring inflation down to a price-stable 2%. Shelter (rent and owner's equivalent rent) is currently around 7% — more than three times what it should be and is not expected to improve until mid-2023.


What does the job market look like in 2023?
We expect the unemployment rate to be around 5% until 2024 and begin to rebound to 4.3% in 2025. We already see reductions in job openings, higher lay-off rates, and upward-trending unemployment claims.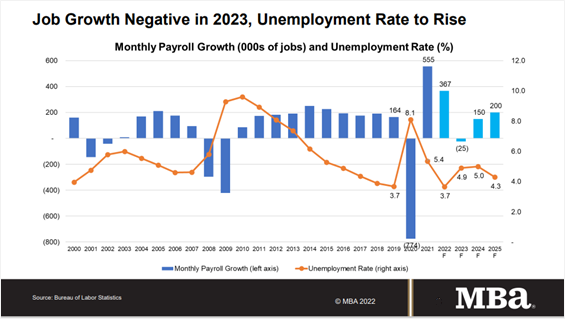 Will mortgage rates decrease in 2023?
Day-to-day rate volatility will remain over the coming weeks and months but will ultimately drop to an estimated 5.2% by the end of 2023. Long term, we should see the global economic slowdown pull US rates down.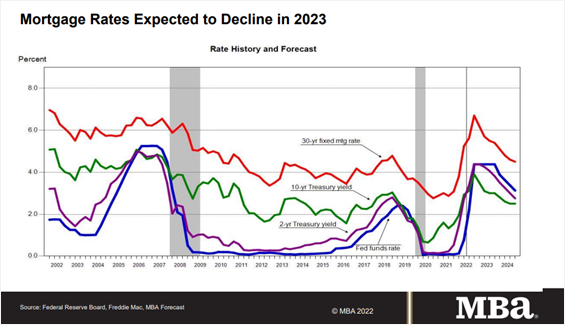 Will there be a decline in mortgage originations in 2023?
Purchase applications will continue to lag, with 2023's origination volume falling just below $2T. However, in 2024 and 2025, origination volume will increase slightly, and housing demand may increase among millennials (~50 million in the US currently) as they begin to represent a more significant piece of the home purchase volume pie. Cash-out refinance demand may increase, as well as demand for HELOCs and closed-end seconds among equity-rich homeowners.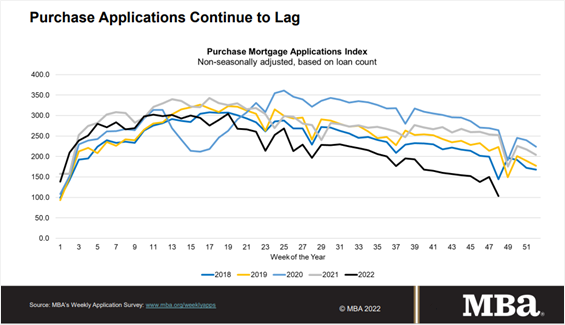 What should servicers expect in 2023?
Mid-size IMBs who retain MRS will continue to benefit from servicing income and a low delinquency rate of 3.45% (the lowest since the 1970s). More good news: the foreclosure start rate is less than half what we would expect to see in this economic environment. Servicers should be aware that rising unemployment rates this year could negatively impact the delinquency rate.


Michael Fratantoni is MBA's Chief Economist and Senior Vice President of Research and Industry Technology. 

In today's market, you need a partner you can trust. Contact us to see how our unique combination of strengths in originations fulfillment, MSR acquisition, and subservicing can serve 
your goals in 2023 and beyond.