Of course, we safeguard your portfolio, but did you know we do all this too?
Default Subservicing

Servicing is easy, until it's not. Our average six-month cure rate of 54.8% on loans transferred in at 60+ days delinquent reflects our commitment to loan performance.

Prime Subservicing

Our seamless onboarding, transparent reporting, and laser-focused loan management help clients sleep at night — knowing all their loans are in good hands 24/7.

HEIL & HELOC Subservicing

With the demand for equity products rising, you can count on us. Our reputation for tightly managed processes, air-tight compliance, and multiple security checkpoints is unmatched.

Loss Mitigation

We measure probability of default, anticipate recidivism, and apply borrower contact strategies that get results.

RMBS Securitization

We're an active RMBS market participant that supports various reporting requirements, advancing structures and product types including Non-QM, Jumbo Prime, 2nd liens, HELOCs, and RPLs.

Co-branded Experiences

Whether you choose to utilize your brand or ours, we treat your customers as if they are our own, acting as an extension of your brand through digital, print, call center and IVR communication.
Here are 4 top reasons why clients select us and stay with us
​Our ratings prove we are best in class
We are one of the highest-rated mortgage servicers in the US and work within government regulations and investor requirements to produce exceptional results.​ ​Global rating agencies affirm this with continued accolades on our breadth of experience, use of industry-leading technology & servicing platforms, robust call center monitoring, strong internal controls, enterprise risk management, and proficiency in servicing HELOCs and many other asset classes. We are ranked Tier 1 by FHA and Ginnie Mae and receive consistent recognition from Fannie Mae's Servicer Total Achievement and Rewards™ (STAR™) award and Freddie Mac's Servicer Honors and Rewards Program (SHARP™).

This year, we were awarded Freddie Mac's GOLD SHARP™ award for our superior servicing portfolio performance, outstanding customer service to borrowers, and positive efforts to cure delinquencies. Being recognized as best in our peer group is the result of bringing together the industry's best talent to protect client revenue and improve performance—for even the most complex prime and default servicing portfolios. Read more about our success on our news page.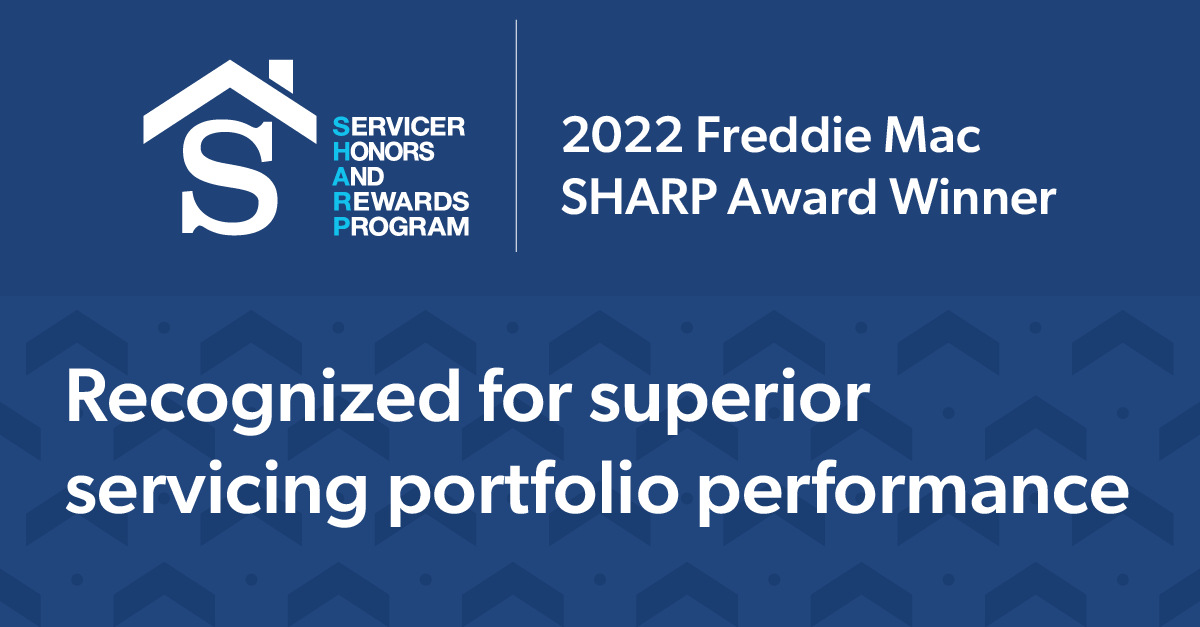 What homeowners say about us...
"Extremely happy with the professionalism and effectiveness of this company. Unlike other mortgage companies I've had before, they actually direct you to the right departments without giving you the loop around."
– SLS Customer
What homeowners say about us…
"When I said, let me explain quickly. The representative said no take your time. Whatever you need is important to us. This warm and welcoming attitude is not commonly found. And this is an example that other companies would be wise to follow."
– SLS Customer
What homeowners say about us...
"The best customer service I ever experienced."
– SLS Customer
A recognized leader in servicing
We've spent 20 years perfecting our performance strategies
Learn how we're bringing together the industry's best talent to deliver servicing solutions that set us apart.
Contact Us