An overview of our fulfillment model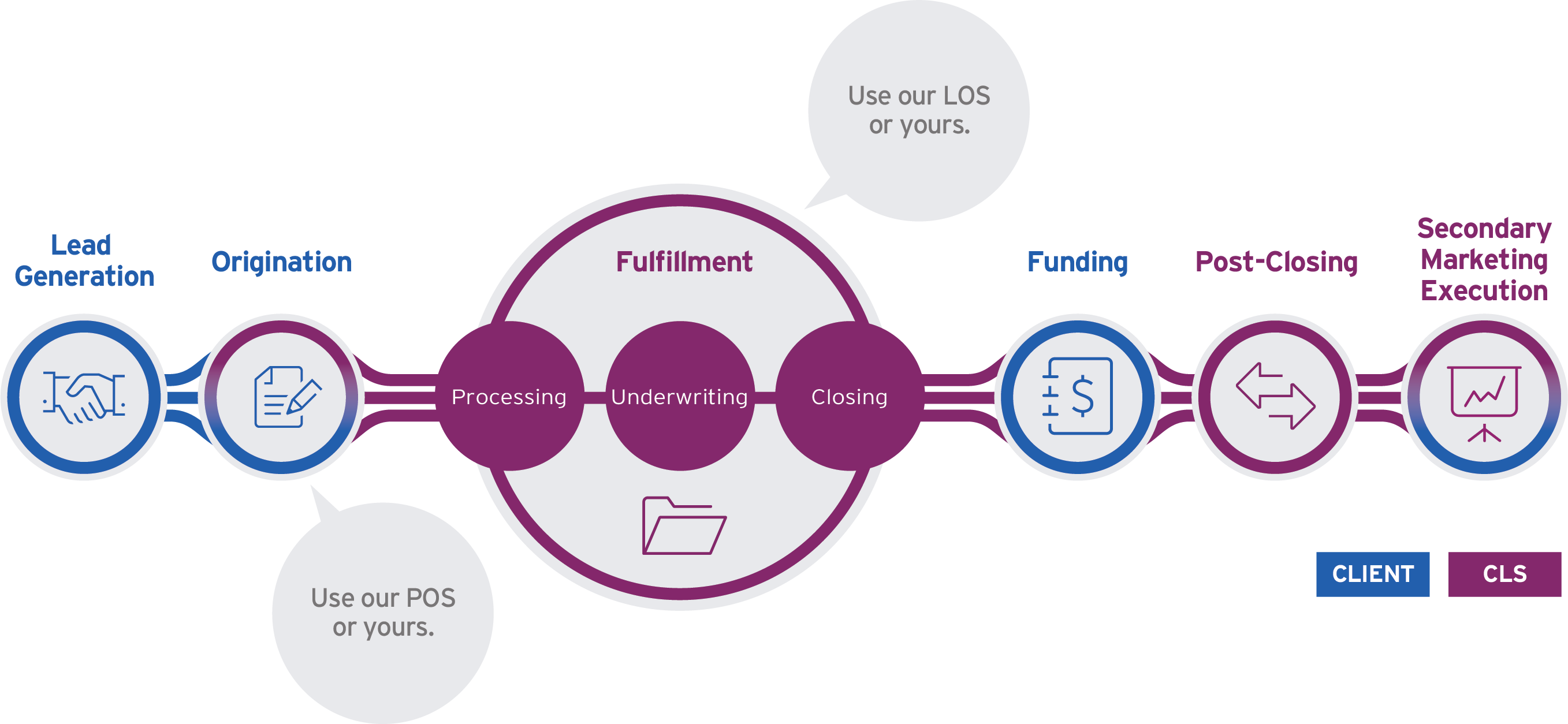 8 great reasons to select CLS' fulfillment solution
Model versatility

Choices are important! With us, you can outsource your end-to-end process or just components. Plus, you have the option to use our POS and LOS technology or yours.

Pricing flexibility

We work with you to select the pricing model that best fits your originations strategy.

Private label solution that supports your brand

From application through closing, we are a part of your team. You can trust that your brand and your reputation are at the center of all that we do.

Full people management services

We reduce your staffing burdens by recruiting, hiring, and training the industry's top talent. We complete pre-employment screening, security, and compliance training, plus ongoing license review and renewals.

Full-scale compliance support

Tap into a culture of control that helps you mitigate risk. Our team has three lines of airtight defenses, and we partner with you to develop, implement, and maintain your policies and procedures.

Best-in-class technology

Leverage our POS and LOS to reduce your technology maintenance costs. If you are happy with your current tech, we easily integrate into your systems.

Options to scale quickly

Rates up, business down, or rates down, business up? A switch to home equity products? Opening a new region? We are fully licensed in all 50 states and Puerto Rico, with a comprehensive set of mortgage loan types that we can fulfill.

Flexible continual support

Gain the power of staffing up or down according to your volume. Access a client support team that will be there for you every step of the way, from processes and pipeline reviews to inquiries about loan-level details.
We've spent 20 years perfecting mortgage fulfillment
Learn how we're bringing together the industry's best talent to deliver fulfillment solutions that set us apart.
Don't just take our word for it, this is what our clients tell us
"You are a pleasure to work with, always quick to respond, and on top of your pipeline! Thank you for leading the way and setting the bar! We are grateful you are part of the team!"
Don't just take our word for it, this is what our clients tell us
"A special shoutout to our Client Relationship Manager because you've been on this journey since the very beginning with us. I have worked with relationship managers, and I have had relationship managers work for me directly, and you are the best in the business."
Don't just take our word for it, this is what our clients tell us
"Your team is very knowledgeable in the production processes and the requirements under regulation. I often bump complex questions off you when I feel like I am missing something, and you've always been able to pinpoint what I was missing. You have done an amazing job managing the CD Review process. Our TRID and compliance QC defect rates are some of the lowest I've seen. I am grateful to have you as a business partner."
Don't just take our word for it, this is what our clients tell us
"The partnership has never been stronger because the CLS leaders are willing to challenge ideas and procedures in order to truly make them better."